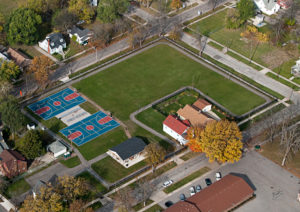 In 2010, we built a sports and fitness park to bring hope to the community. This park is one of many projects we are planning to build in the community to help restore it. It consists of a quarter-mile walking track, two full-size professional basketball courts, a pavilion equipped with electrical outlets, a commercial water fountain, and two barbecue slabs. For security purposes, the park is secured with a six-foot wrought iron fence and security lights. The park also has lots of grassy area for many activities and community programming opportunities. The sports and fitness park gives a facelift to the area by providing a positive attraction in the community.
In addition, the park serves as a hub for physical fitness and social activities in the neighborhood. Our hope is to assist in keeping the people in our church and community healthy by giving them a safe place to walk, run, and play. We believe through physical fitness, lives are prolonged. The pavilion provides a safe place for people to gather and celebrate special occasions like family reunions, picnics, birthday parties, and other social gatherings for all ages.
This undertaking became the center of attraction throughout the city, and it was proudly reported by the people of the neighborhood and community leaders as one of the "biggest community projects ever done by a church." The programs and events that have taken place in the park have made it one of the biggest community-connection pieces in the entire city. As we unfold the programs and events that take place in the park, you will see that the work is life-changing.