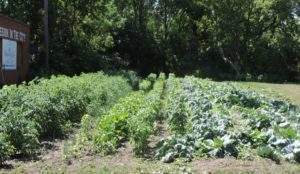 The community garden is another part of our commitment to "restore our community one person, one block at a time." As part of a wide range of community support programs, MITC seeks to provide the members of the community with greater access to fresh fruits and vegetables. Each year we provided food for over seventy-five families. People from the community share freely in the produce of the garden and deeply appreciate the resources. All that was asked of the partakers is to not waste the produce, to take only what they need, and to not damage the garden.
GET Our mission strategy is to cultivate relationships by allowing the community an  opportunity to take responsibility for a specific row of vegetables or fruit in the garden. In doing so, they will develop a deeper appreciation for one another, while protecting and caring for the crops and ultimately by sharing the harvest with the each other.
The Community Garden is to provide members of the community with fresh fruits and vegetables such as tomatoes, Cucumbers, Peppers, Greens, Cabbage, Corn, Carrots, Onions, Green, Beans, quash, Okra, Peas, Celery, Lettuce, Broccoli, Watermelon, Cantaloupe Honeydew and much more.
This garden also will help the community in the following ways:
Increase community pride
Bring people together
Eliminate blight
Help reduce crime
Teaches life skills
Prove a form of exercise
Provides healthy foods
Supplements grocery budgets
Reduced stress
Add beauty to the neighborhood
May increase property values